Hello!
Another Wednesday is upon us.  Today I wanted to talk about how to protect your engagement ring from getting lost.  In the beginning, it may not seem like you'll ever want to take your new sparkler off,  but you'll soon realize  that every day tasks,  such as showering,  washing dishes…and sleeping are causing you to remove the ring.
So where do you put it to ensure it doesn't fall down the drain,  or get lost in the sheets?
I know my personal inclination is to just take off some jewellery, and put it beside me,  but I also know that I have a tendency to knock things over.
What if I knocked over the toothpaste, that then in turn hit my ring that's just on the counter!
This is why I think a ring holder,  and a true holder,  not a tray,  is important for areas in the apartment that are close to drains.
Check out this fabulous sea-themed holder: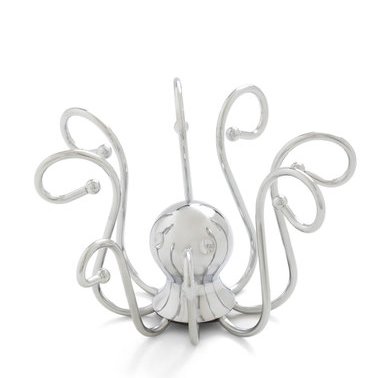 This is perfect for the bathroom!  It's super cute,  plus you can safely, and securely store your ring.  Just place it on one of the tentacles,  and your ring will be waiting for you after your shower.
Something similar is good to keep in the kitchen, as well.
In the bedroom you have a bit more room to pick something that suits your style needs!  A jewellery tray is perfect,  because you don't have to worry about drains.
Maybe it's a little trinket you picked up from your honeymoon,  or the champagne flute from your reception.
Whatever it is,  don't forget this important addition to your home.  Every room could have it,  and you'll be thanking your lucky stars that you've bought one,  when you hear your friend's story of calling the plumber to remove the pipes.